Garden Lessons from a Grand Northwest Reserve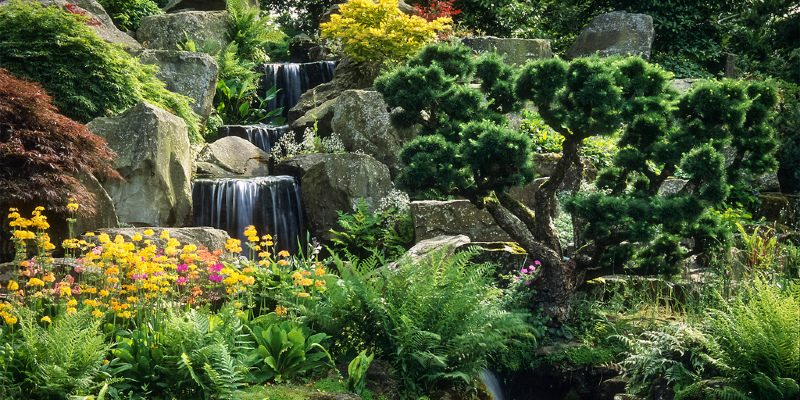 The Bloedel Reserve is among America's botanical paintings, a 150-acre land on Bainbridge Island, only a 30-minute ferry ride from Seattle's waterfront. When you visit, bring a camera and a notebook (and wear comfortable walking shoes) so it is possible to document the many inspiring scenes, plants and garden vignettes created in the time Prentice and Virginia Bloedel obtained the estate in 1951.
Unlike in many arboretums or botanical gardens, the plants at Bloedel are not labeled. In some ways, this enhances the enjoyment of the woodland paths, strolling lawns and framed vistas. The plant-obsessed ought to stop from the gate home or visitor's center to borrow a well-labeled map to your explorations. Or join one of the frequent docent-guided tours for up close and personal with all the horticultural specimens.
Here is some background: For a period of 30 decades, the Bloedels sustained a sensitive connection with nature, quitting the designing hand of man using this bucolic woodland setting. They commissioned prominent designers, including Fujitaro Kubota, for help with the Western Garden; for other distinct gardens within the larger landscape they turned into landscape architects Thomas Church and Richard Haag along with the company Environmental Planning and Design. Prentice Bloedel orchestrated the development of many garden rooms set from the varied landscape of second-growth hardwood and conifers, meadow and wetlands, glens and gullies.
While they incorporated influences from the Western and the European gardening customs, a regard for the natural attributes of the property prevailed and pervaded. There are currently 84 acres of second-growth forest and 66 acres of varied landscapes. The result: a native woodland crisscrossed with shady paths, meadows and a extensive selection of formal and informal gardens.
Location and contact information: Bloedel Reserve, 7571 NE Dolphin Dr., Bainbridge Island, Washington 98110-1097; phone: 206-842-7631
Hours: Tuesday through Saturday, 10 a.m.–4 p.m. (summer hours: Thursday through Sunday, 10 a.m.–seven p.m.); Sunday, 10 a.m–4 p.m. Open Memorial Day, July 4 and Labor Day.
Price: $13; discounts for seniors, military and children 5 to 12; children younger than 5 are free.
Membership info: At $60, the simple yearly membership is a great deal; just one membership entitles you to bring a total of four people each visit.
Here are photos in my many visits along with my thoughts about how grand settings can influence a smaller, residential atmosphere.
Debra Prinzing
Work with nature; do not fight it. From the Moss Garden, there is a quiet reverence for all things. This area reflects Prentice Bloedel's admiration for using nature's gifts instead of combating them. So many folks residing in moist regions see this landscape and realize just how beautiful an all-green, mossy landscape can be — and just how blessed they are to live where moss naturally happens. For those who live in dry regions, I suggest you just gaze in amazement at the lush foliage tapestry and think about how you can combine different forms and textures of green crops appropriate for your planting zone to produce your very own Bloedel-inspired scene.
Debra Prinzing
Emulate organic forms, such as the circulation of water. This seasonal stream moves water through the house, animating a wooded area with movement and reflected light. When incorporating a water feature (large or small) for your landscape, original observe how water looks in nature. Emulate the irregular journey it may require, replicate the types of plants which populate the water's edge and choose a scale that is appropriate to the bigger garden setting.
Debra Prinzing
Place trees for impact. Looking round the main pond, an individual can not help but notice a graceful weeping willow tree, its branches luminous with new spring foliage, nearly touching the water's surface. To me, the lesson here is all about placement — if a tree is sited in the right spot, it looks natural, as if it has always been there. The other lesson is to respect a tree because of its inherent structure and form. Nothing looks more unnatural than an overpruned shrub whose owners are attempting to tame it into submission.
Debra Prinzing
Produce vistas and perspectives. Here is a different perspective over the main pond, looking west toward the original residence. This formal, European-style landscape is characterized from the man-made river, a romantic pair of swans, the weeping willow, the English elm and a parrot tree, using a magnificent Empress tree facing the home.
Debra Prinzing
Utilize water to mirror the bigger scene. The Japanese Garden is a motivational centerpiece of the Bloedel Reserve. This pond, the stones and the sculpted trees enclosing the water were carefully placed to create an entire portrait to delight the viewer. What I love about this scheme is how every specimen tree is mirrored at the surface of the water, doubling the impact and lending depth to the design.
Debra Prinzing
Do not overlook the small details. Whilst walking along the shaded pathways, I detected that a massed planting of oxalis. I believe it is known as redwood sorrel (Oxalis oregana), indigenous to coastal woods from Washington to California. The plant's cloverlike foliage is bright green and thrives from the understory of tall conifers. I found the 1-inch white blossoms with lavender veining thoroughly beautiful.
Debra Prinzing
Plan a few surprises. From the mist of Bloedel's natural setting along with woodland canopy, one is bound to experience a breathtaking moment upon entering the Reflection Garden. This formally designed room contains a shallow, rectangular pool, enclosed by a clipped yew hedge. This is a calm, meditative space concentrated on water and skies. Any moment you can section off some of your garden for a calm, contemplative escape, you'll have given yourself a present. Add a large saucer of water to create your own saltwater pool.
Debra Prinzing
Seek serenity in the backyard beauty. This is another view of the long, slender reflecting pool, situated inside a dark green yew hedge. From that vantage point, you get the notion of scale and ratio and the emotional reaction it evokes.
Debra Prinzing
Group similar crops for a big statement. It's pretty to see, however, this moisture-loving plant does live up to its title: Western skunk cabbage (Lysichiton americanus). Some folks discover its pungent odor offensive, but its own stinky scent doesn't actually bother me. What I did notice was the pleasing way a lone plant looks when multiplied and randomly spaced. You may try this using any mounding or erect plant. Multiples are always more interesting than a singular plant.
Debra Prinzing
Notice the route of sunlight and plant accordingly. Here is another design lesson, taught to us from the humble Western skunk cabbage. Consider the way light goes through your landscape and situate plants accordingly. When a plant is backlit by sunlight at dawn or dusk, its attributes are greatly improved. Here, the afternoon sun illuminates the skunk cabbage's leaves so we can see its inner architecture. And it is fairly sensational, is not it?
Debra Prinzing
Pick a singular shrub for its wow factor. This is the most magnificent Katsura tree (Cercidiphyllum japonicum) I have ever seen, its lime-gold foliage only emerging to a spring day. The takeaway here is that if you can only manage one tree on your house, do your homework and select something people will notice and remember. This is a great choice. I actually had this in my previous urban Seattle garden, a 7,200-square-foot great deal. Look for a named cultivar such as 'Heronswood Globe', which reaches just 25 feet.
Debra Prinzing
Gold consistently looks great in the garden. This really is a gold form of black locust (Robinia pseudoacacia), glowing against the darker evergreens. It's another wonderful landscaping tree to think about, even at the smaller garden, because there are beautiful dwarf cultivars. An excellent one is 'Twisty Baby', which climbs to 10 feet tall by 12 to 15 feet broad.
Debra Prinzing
Frame your perspectives for increased enjoyment. On the east side of the estate, there are amazing views of Puget Sound facing Seattle. The huge planting of Japanese forest grass (Hakonechloa macra) from the foreground emulates soft ripples of the water. The lesson here: Length remote perspectives with tall evergreen trees or shrubs. The scene is finally more interesting when observed through that planted "frame"
Debra Prinzing
Learn from other garden civilizations. Fujitaro Kubota's Japanese Garden is a quiet, contemplative area. The components of rock and sand evoke meditative moods in the classic Japanese garden. This was set up when the Bloedels chose to pay past a swimming pool. What a transformation!
Debra Prinzing
Watch and love. The hand-raked lines from the gravel illustrate that in some settings, much less is much, much more. I have previously written on about rhythm and lines, and this romantic detail exemplifies both thoughts. While not everyone may have a Japanese garden, it is simple enough to use crushed stone or gravel in a small area to complement your crops (the raking is discretionary).
Debra Prinzing
Play with routine. Among my favorite design details at Bloedel is this alternating tree and rock pattern next to the Western gravel garden. There is beauty in its own randomness.
Debra Prinzing
Turn a prosaic feature into a work of art. Make even a brief journey a special one. This cobbled walkway contributes toward the Japanese teahouse. Notice that the hot low fencing on either side, made from lashed bamboo poles.
Inform us What is your favorite takeaway from this uplifting estate? Tell us in the Comments section below.
More:
Longwood Gardens' Pathways Invite Exploration
Formal Parterre Gardens Rule the Landscape