Rekey or Replace Locks?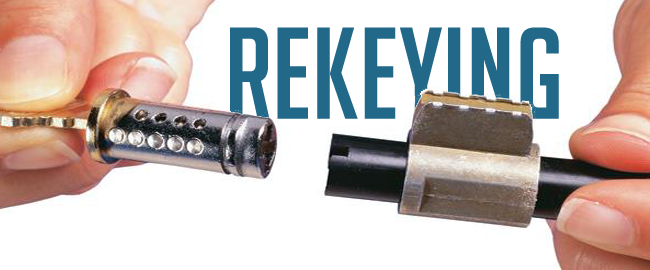 From time to time, a locksmith will receive calls from clients who want to change locks. Upon inspection, the locksmith will recommend two things, either replacing the locks or rekeying the locks.
It is actually a good idea to get an expert locksmith to inspect your locks. They will, in most cases, recommend that you rekey the locks. Replacing the locks is usually a last resort. A lot of clients do not really understand the difference, or which of these two is the better option for them.
Rekeying Locks
What happens during a lock rekey?
In this process, the Atlanta handyman will replace the spring and pins within the cylinder of your locks, and give you a new key. Unless your locks are damaged or they are a different style than what you wanted, it is possible to rekey most of the locks in the market and continue using them.
One of the main reasons why people choose to rekey their locks is because of key control, especially when you are in possession of a new property. This is simply a means of making sure that you have all the keys that were designed to operate the locks. As soon as the house has been given away, and the keys released, control over the keys, and your security flies out the window. Given that you might not know the person who owned the house before you or the people that they might have shared their keys with, it is a safe choice to rekey the locks.
In certain communities, handyman Atlanta GA usually master rekey the locks during construction. When the work is done, the contractor will not be able to use its keys. Some of the locks usually have as many as 16 keys that can operate the lock. In such a scenario, rekeying will get rid of the master pins which make it possible to make the additional keys, thereby offering a guarantee that no other key can operate the locks.
Replacing Locks
There are some situations where the only way out for you is to replace the locks altogether. For locks that have been in use for a long time, they do suffer wear and tear. At times this happens to the point where the lock can no longer be rekeyed to enhance the functionality. In such a case, replacing the locks will be a better alternative, especially if you are getting better quality locks.
Other than wear and tear, you might also want to replace your locks out of pure aesthetic reasons. You will notice that knobs are usually less attractive compared to lever handle knobs. Over time, electronic locks have become a popular choice for a lot of people.
Before you replace your locks, it is advisable that you consult professional handyman Atlanta. They will usually advise you on the best course of action, after inspecting the locks and your security profile. For a fact, you will realize that rekeying locks is cheaper than replacing locks. Another reason why you should consider consulting a professional locksmith is that they usually have access to high-end locking hardware.